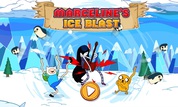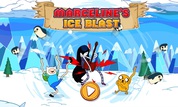 Play Now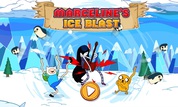 Unfortunately, Marceline's Ice Blast is not available on your device. Please try one of the related games below or visit our HTML5 category.
About Marceline's Ice Blast Game
Enjoy a thrill with Marceline's Ice Blast game! As it often happens in the Adventure Time universe, Finn and Jake are in trouble once again. Their long time opponent, the Ice King, is annoyed by Marceline's progressive music. Therefore, he has begun a wild chase through the icy lands. Will he catch the three quirky heroes? It's all up to you!
Have you ever wanted to play the role of Marceline, the fun-loving 1000-year-old Vampire Queen? Now, you have the chance to turn your dreams into reality! Use her awesome guitar to play powerful tunes and defend Finn and Jake from the penguins' attack. Beware of Ice King's spells, as they are unbeatable!
How to Play
The game consists of a single continuous run through a frozen realm. To make Marceline fly and blast the cute, yet menacing penguins with music, simply click and hold the Left Mouse Button. This will keep the aggressive birds away from the main protagonists of the Adventure Time series. How cool!
However, you should be very careful when it comes to Ice King's magic! You will be warned about his appearance by yellow exclamation marks appearing at the right side of the screen. Try as best as you can to stay out of his way! If Marceline happens to be in his range, his mighty spell will turn her into a block of ice. Sadly, this will end your current run. Yikes!
Don't get discouraged! You should restart the game every time Marceline gets frozen and try again for a better final score. Try to be quick enough and handle the Vampire Queen's guitar with care. This way, you might manage to obliterate all the penguins and avoid Ice King's terrifying curse. Even if you fail repeatedly, you'll still enjoy some cool music and hang out with the quirky yet loveable characters from the Adventure Time series. Doesn't that sound like a cool pastime?