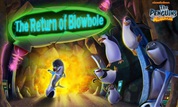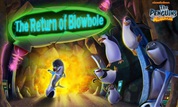 Play Now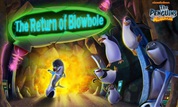 Unfortunately The Return of Blowhole is not available on your device. Please try one of the related games below or visit our HTML5 category.
About The Return of Blowhole Game
Oh no! The evil Dr. Blowhole has come back with a new plan in The Return of Blowhole game! The famous Penguins of Madagascar can't let the villain win, and they need your help! Join Skipper, Rico, Kowalski, and Private, go on a secret mission together, and defeat your enemy!
Reunite with your favorite team of penguins and go on an adventure together! Take on Dr. Blowhole and his lobster minions, and keep running until you reach the villain. There will be many obstacles in your way, but you have your friends with you! Just stay focused, and try to act as fast as you can!
How to play the game
The controls are simple, but you have to keep your eyes open at all times! All you have to do is use your mouse and click on the screen. Every time you tap, the penguins will split up, avoiding the obstacles. Remember that you can click on any of your 4 friends, and the entire stack will jump at once!
You have to react quickly as you never know what will pop out of nowhere. Do your best to avoid Dr. Blowhole's minions because every time you get hit, you lose a team member! You only have 4 lives, so use them wisely and try to reach the villain on time!
Your goal here is to last as long as possible without using up your three lives. If you need some help, pay attention because you might come across bonus items. If you pick up the fish, you will earn some extra points. You can even find hearts, which will bring back one of the lost penguins, helping you continue the mission.
Skipper, Rico, Kowalski, and Private need your help to stop Dr. Blowhole's evil plan! Join The Penguins of Madagascar and help them defeat the villain!
Good luck!