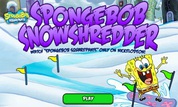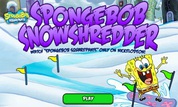 Play Now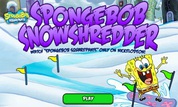 Unfortunately, SpongeBob SnowShredder is not available on your device. Please try one of the related games below or visit our HTML5 category.
About SpongeBob SnowShredder Game
Help your sponge friend become the best snowboarder on Bikini Bottom's hills in the SpongeBob SnowShredder game! Snow is not too common in SpongeBob's hometown, so he's just learning how to ride the snowboard! This time, he needs you to guide him down the hill and keep him on his feet! Will you manage to do it?
Show off your snowboarding skills in this game! Your job is to help SpongeBob ride the snowboard down the hill and pass through all the flag gates before the time runs out! Move quickly, and don't trip, or you'll get covered in snow!
How to Play
You'll need your mouse to start your snowboarding adventure. Move your cursor from side to side, and SpongeBob will follow! The closer you are to the edge of the screen, the sharper his turn will be, so remember to keep that in mind when aiming for flags that are further away! Go through all the flag gates and earn points!
Be careful not to hit a flag when attempting to pass through the gates! It will make poor SpongeBob fall and lose a few seconds from the timer while getting back on the board! If one of the gates seems out of reach, avoid it and continue on your way to the next one!
Remember, this challenge is all about time! The bar at the bottom of your screen will slowly drain as you go down the hill. Hitting a flag will decrease your time, while successfully passing through the flags gives you some back! Try to get as many points as possible the bar becomes empty.
Are you ready to show off your skills and become the snowboarding champion? Time to conquer the snowy hills!